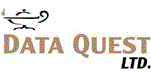 Hello Data Quest Shoppers!

We've upgraded to a new modernized, mobile friendly shopper interface! Its functionality should still be familiar to you, but we encourage you to visit our help pages for the new interface at
http://go.sassiex.com/2017shopperpages

Congratulations to Michelle P. from Massachusetts, she is the winner of our Q1 2017 Amazon Bonus gift card!
Congratulations to Shelly R. from New Mexico, she is the winner of our January 2017 Amazon Bonus gift card!

Avoid Mystery Shopping Scams:
Although Mystery Shopping has been a legitimate industry for decades, please beware of scams. Scammers fraudulently use the names of legitimate Mystery Shopping companies to entice Mystery Shoppers into unknowingly releasing their bank account and other personal information. Please be vigilant and understand Data Quest's practices as follows:
• Data Quest email messages only originate from @DataQuestLTD.com. Accounts from Yahoo, Gmail, etc. are not used.
• Data Quest only accepts Mystery Shopper applications through the Mystery Shopper Signup link. Jobs are never assigned to shoppers who have not applied through the SASSIE website.
• Data Quest will never ask a person to pay to become one of its Mystery Shoppers.
• Data Quest will never offer a Mystery Shopping job that requires making a wire transfer, check deposit or purchase/forward a gift card.
• Data Quest will never offer a Mystery Shopping job evaluating money transfer services.
• Data Quest does not pay Mystery Shoppers in advance. Payment is only made after the audit has been completed.
• For more information about Mystery Shopping scams and how to protect yourself, visit the Federal Trade Commission.
• If you believe you may be the victim of a scam, please file a report with the Federal Bureau of Investigation."