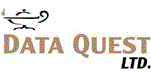 Hello Data Quest Shoppers!
Congratulations to Shelly R. from New Mexico, she is the winner of our January 2017 Amazon Bonus gift card!
Mystery Shopping scams are a major issue for our industry. Please read this article for details on a common scam and how to avoid it: http://www.usatoday.com/story/money/columnist/2017/03/11/beware-mystery-shopper-scam/98903708/
We issue payment in the form of a check sent via US Mail, have you moved? Please update your mailing address in your sassie profile and follow that up with an email to info@dataquest.co to notify our accounting team of the change. Use the subject line: Shopper Address Update. Within your email please provide your full name and your new mailing address. Failure to update your mailing address with Tracey will result in a delay in receiving your check.
Thank you!
Data Quest, Ltd.





Get shop offers sent to your mobile device for FREE!



Learn more