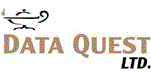 Hello Data Quest Shoppers!
Check out our new Mystery Shopping Division Manual by copying and pasting this link into your browser: https://drive.google.com/file/d/0B2Zpzn16iwxMeWVVMWJQRWFCS0k/edit?usp=sharing
The manual should help answer any questions you have about Data Quest and our Mystery Shopping Division. Information on using sassie, conducting shops, shop payments and managing your sassie account is included. You should reference this manual before contacting Data Quest with non shop related questions.
We issue payment in the form of a check sent via US Mail, have you moved? Please update your mailing address in your sassie profile and follow that up with an email to info@dataquest.co to notify our accounting team of the change. Use the subject line: Shopper Address Update. Within your email please provide your full name and your new mailing address. Failure to update your mailing address with Tracey will result in a delay in receiving your check.
Thank you!
Data Quest, Ltd.





Get shop offers sent to your mobile device for FREE!



Learn more